A blog by attorneys
from Waters
McPherson
McNeill, P.C.
WMM to be Exhibitor at League of Municipalities Highlighting Public Financing Practice
Posted on Wednesday, November 4, 2015 by Susan C. Gieser
WMM to be Exhibitor at League of Municipalities Highlighting Public Financing Practice
Waters, McPherson, McNeill, P.C., will be an exhibitor at this year's League of Municipalities convention in Atlantic City, which runs from November 17 through 19.
As this is the 100th anniversary of the New Jersey League of Municipalities, we anticipate that a large number of municipal and county officials in attendance. Having a presence on the convention floor presents a unique opportunity to talk will be directly with the public officials we interact with so often for clients seeking land use approvals, tax appeals or abatements, condemnation negotiations, or redevelopment opportunities, often relying on the judgments of Mayors, Council members, County Executives, Freeholders, or the administrators and appointees responsible for the day-to-day operations of municipal and county governments. The League is a chance to connect with individuals on a personal level which can be invaluable when a client needs their help.
For our public clients, the Firm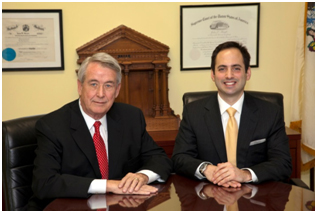 will be highlighting our public financing practice. With the addition of Jack Kraft, pictured left, (New Jersey's first bond counsel) and Jason Capizzi, pictured right, the Firm has greatly expanded this practice area with bond counsel assignments in municipalities and counties throughout the State from Bergen County to the City of Camden.
Jason leads the Firm's public finance practice and began his legal career in 2004 as Assistant Counsel to New Jersey Governors James E. McGreevey and Richard J. Codey. Thereafter, he worked in the public finance and redevelopment departments at a prominent regional law firm before serving as a Deputy Attorney General providing legal counsel to the Local Finance Board and the Division of Local Government Services in the New Jersey Department of Community Affairs.
Jason's profile in the public finance world extends beyond New Jersey as a co-founder of Americans Calling for Truth NOW (ACT NOW, www.act-now.us), a federal political action committee charged with shepherding a nonpartisan grassroots movement in support of tax-exempt bonds, infrastructure and jobs. He also designed an introductory public finance class for the Rutgers University Center for Government Studies School of Continuing Studies, and is a frequent speaker / lecturer on public finance matters. Jason's public finance articles have appeared in Bloomberg's Municipal Market Brief, the New Jersey Law Journal, and The Association of Environmental Authorities of New Jersey's The Authority View. Most recently, Jason was selected by the New Jersey Law Journal as one of its 2015 New Leaders of the Bar.
If you are in Atlantic City during the League, stop by the Firm's booth on the convention floor or our breakfast in the Luna Room on the 2d floor of The Water Club at Borgata on Wednesday morning between 8:30AM and 10:30AM.
WMM Partner Bob Cavanaugh elected Bar Association Trustee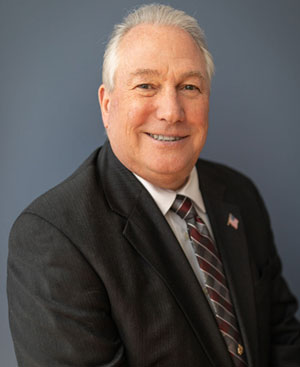 WMM takes pleasure in announcing that on October 8, 2015 WMM Partner Bob Cavanaugh (pictured left) was elected Trustee to the Hudson County Bar Association ("HCBA") to fill an unexpired term. Bob will serve as a Trustee until January, 2017 and looks forward to serving the HCBA. Bob considers it a great honor being elected Trustee of the HCBA by his peers. As one of the oldest Bar Associations in the Country it has a long and noble history. He looks forward to working with the other members to carry on that tradition. Bob joins WMM Partners Mark McPherson, a long time Trustee, and Eric McCullough current recording secretary and future 2nd Vice President in serving the Hudson County legal community through their service to the Bar Association. As a long-time supporter of the HCBA WMM is pleased to continue serving as part of the Bar Association. Please join us in congratulating Bob.
WMM awards 2015 David Waters Scholarship in honor of former partner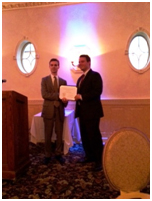 On June 25, 2015 WMM Partner Eric McCullough was on hand at the Hudson County Bar Foundation Annual Scholarship Award Dinner to present the David Waters Scholarship. Eric is pictured on the left presenting the David Waters Scholarship to this year's recipient. WMM presents the David Waters Scholarship each year to a deserving law student chosen by the Bar Foundation in honor of its former partner the late David Waters. WMM congratulates this year's scholarship recipient and looks forward to continuing to support the Bar Foundation, legal education and honoring David Waters with the awarding of the David Waters scholarship.
If you have any questions, please contact Sue Gieser at scg@lawwmm.com, (201) 319-5750.
877727_2
Subscribe to this blog
Other WMM Blogs
Other Blog Entries:
Search our blogs